OUR SHAMPOOS
We think it's really important to use kind, cruelty free products on all our dogs so we shampoo with Tropiclean natural skin and coat care for pets. 
The shampoo leaves your dogs smelling wonderfully fresh and you can even pick a bottle up in store to give your pooch a mid-groom bath at home.
DELUXE DOG GROOMING SERVICE
You can view some of our groomer's work on our Instagram page here.
QUALIFIED GROOMING SPECIALIST
STRESS FREE
WHILE YOU WAIT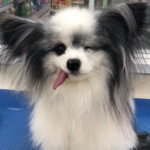 WASH + TIDY
Small £35
Small Medium £39
Large £45
Extra Large £50
HAND-STRIPPING
Full Groom
Our full body treatment offers everything your dog needs to be healthy and look great. This includes a relaxing bath with natural shampoos to suit the coat or colour of your pet along with a warm blow dry, nail trim, sanitary trim, tear stain remove treatment, ear cleaning, custom coat cut and styling topped off with a luxury cologne spritz, paw treatment and fresh breath treatment.
Small £45
Small Medium £49
Large £55
Extra Large £60
Teeth Brushing
Nail Clipping
£8
(included in groom + tidy services)
Sanitary Trim
Face Trim
Puppy Groom
Puppy Groom £35
PRICING
Our pricing structure has now been updated from 1st January 2021 – please see above.
If you have any questions please give us a call on 0208 296 0600 or drop us a line at hello@creaturecompany.co.uk